---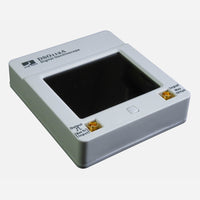 DSO112A is an upgraded model of DSO112 (now discontinued) with re-designed schematic and PCB. Due to the new design this oscilloscope becomes more accurate and reliable. Up to 2mV/div sensitivity and ultra low background noise made the device particularly useful for measuring weak signals. While keeping all performance of DSO112 this new model brings in the following improvements:
Maximum sensitivity is increased to 2mV/div (older version is 5mV/div) with low background noises.
Fixed vertical position mismatch problem which has been a major drawback with the older version.
Save/recall up to 24 parameter presets. This allows quick setup for frequently performed measurements.
Expanded and improved on-screen measurement displays which include frequency, Vmax, Vmin, Vavr, Vpp, and Vrms.
Added external trigger feature.
Provided a two-way serial control interface which can output data/measurements and receive commands. This will make the device suitable for integration to customer applications.
Replaced out-dated miniUSB connector with more popular microUSB connector.
Enclosure strength enhanced.
Photos
Videos (from the old model as demonstration)
Major features of DSO112A include:
Analog bandwidth: 0 - 2Mhz
Sensitivity: 2mV/Div - 20V/Div
Timebase: 1us/Div - 50s/Div
Sampling rate: 5Msps max
Capture buffer: 512/1024 points
Delta-T and delta-V cursors with readouts
Measurements of frequency, Vmax, Vmin, Vpp, Vavr, and Vrms
Test signal with multiple frequency selection
Serial control interface
Save/Recall up to 24 parameter presets
Save/Recall waveform captures
External trigger
Battery/USB powered
Accessories
One 3.7V/1200mAh Li-ion battery (installed)
Two MCX-clip cables
One USB cable
Documents